This is the only easy to make vanilla cake recipe you'll ever need! It bakes up soft, buttery, and moist. It's foolproof, super easy and it all comes together in just one bowl. Simple, versatile, and so delicious that anybody can't resist.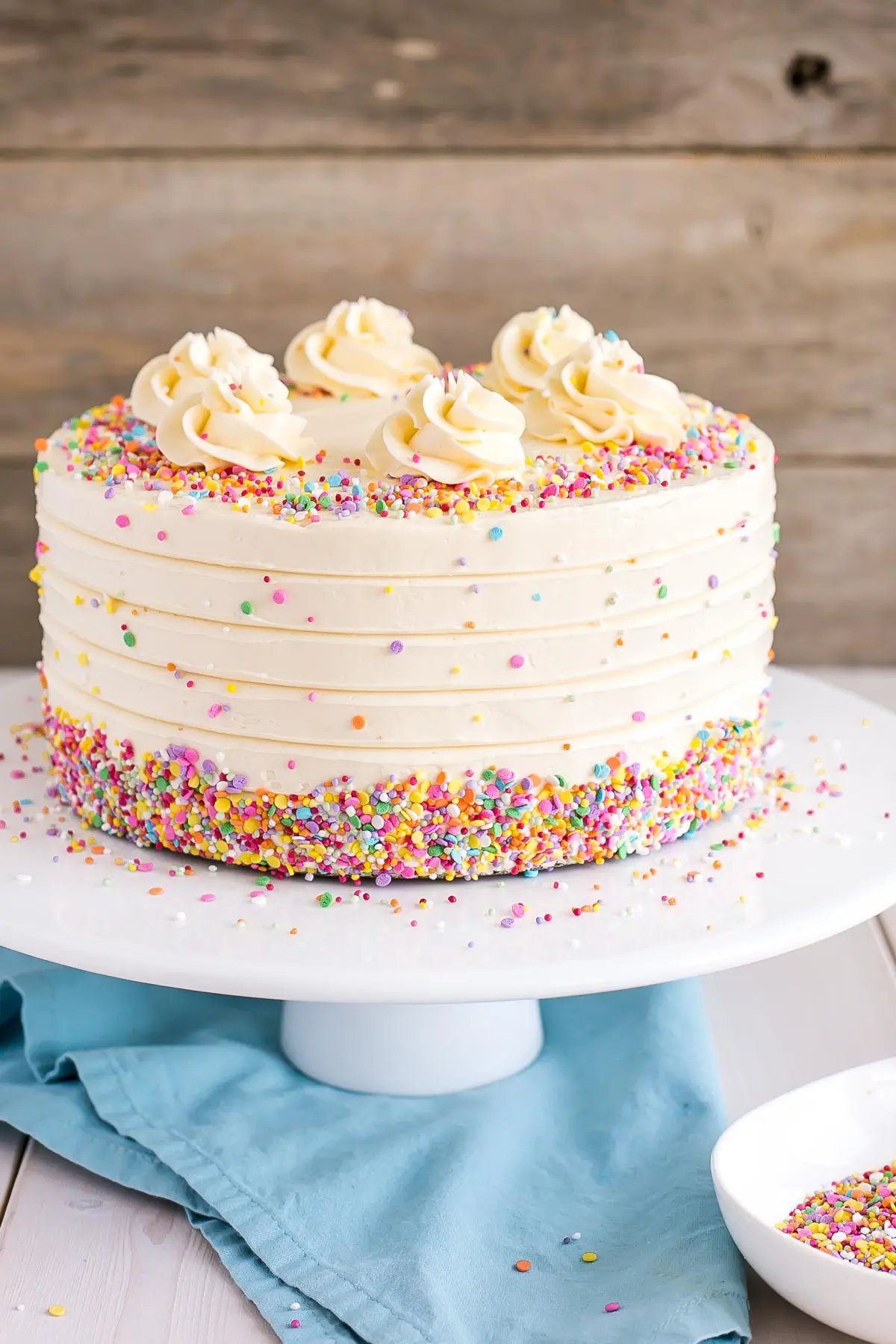 After many cake fail finally I have found the perfect recipe to make classic vanilla cake which anyone can master. It's easy less time consuming and fun.

Not to mention its versatility: This vanilla cake batter is strong enough for shaped cakes, tiered cakes, and much more.Use this batter for vanilla cupcakes, bundt cake, or even piñata cake. It can be used for birthday or anniversary celebration or may be for a big family dinner.
You Need The Following Power Ingredients To Bake 1 Pound Cake :

100 grams of flour
1 tea spoon of baking soda
1 tea spoon of baking powder
200 grams of Milk Maid/ Mithai Maid
140 ml of water if using milk maid else 120 ml of water when using mithai maid
50 grams of Amul butter (melted at room temperature)
Vanilla essence
Whipped cream
White chocolate chips for garnish
Cherry for garnish
You Will Also Require:
8 inch baking tin
A bowl
Measuring spoons
Parchment paper or butter paper
Little flour for dusting the pan
Method:

First add all the dry ingredients that is floor, baking soda, baking powder.
Then add milk maid or mithai maid which ever you have. Mix these ingredients in cut and fold method.
Then gradually add water and finally add the butter.
Note: butter should be melted at room temperature, it shouldn't be hot else the cake batter will be spoiled.
After adding butter add vanilla essence 4-6 drops
Or else u can add vanilla bean extract but don't add enough it will taste bitter.

Now take the tin apply little butter and dust it with flour so that the cake doesn't stick to the bottom of the tin. You can use parchment or butter paper instead.

After this pour the cake mixture in the tin and bake it in the oven for 8-10 minutes and if you have convection or OTG pre heat it at 180 degrees for 5 minutes and then cook the batter for 20 minutes at 180 degrees.
Before taking out the cake from the oven do the fork test. Gently insert a fork in the middle of the cake and take it out, if the fork comes out clean then your cake is ready else it has to be in there for sometime.
After you are done baking let the cake rest for some time mean while take the whipped cream add some vanilla essence to it and whip it again. Cut the cake from the middle and add the whipped cream. Sprinkle some chocolate chips and put the othe layer of the cake on the cream and add the cream all over the cake remember don't go overboard with it. Finally, garnish with cherry and white chocolate chips.
And your vanilla cake is ready!!